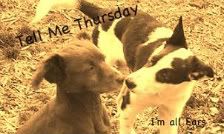 1. What five things can't you live without?
Diet Coke, camera, sunglasses, dogs, and of course, my furnace repairman.
2. How do you transport your dogs? This question suggested by several peeps, including
Mara
.
I have a really nice 1997 Ford F250 with a 460 Big Block and a bed on it that will comfortably fit 4 dog crates, and chairs, and stockwands, and a cooler, etc. So it makes perfect sense that the dogs ride in the cab with me.
3. What role does obedience play in your training or running of your dog(s)?
Around my little place, as long as they will lie down and call off when I tell them to, everything else is pretty much done on body pressure and/or balance. They know what needs to be done around here. When I am working the dogs in the field practicing for a trial or something, I expect complete compliance with my every word, and am surprised when I don't get it. Imagine that.
4. At what point do you start putting commands on your dogs?
As soon as I need them to get me a beer.
5. Do you talk to strangers in elevators? Question posted by
Laura #1
Of course! For instance, in California, on my way to work one morning, I had a full glass of Diet Coke in my hands. Apparently, I had a hole in my lip that morning, and dribbled a little bit of it on my shirt. I turned to the guy next to me and asked him if I could borrow his towel. My boss, who was in the elevator with me, buried her face in the corner of the elevator. It was obvious the guy didn't understand what I was asking. As we exited the elevator, my boss started laughing, and I said, "You know, he could have taken that thing off his head so I could borrow it!"