Colleen and I took the dogs (Reena, Zip, Echo and Rio) up to Janie's to work today. We ended up spending the entire day there, enjoying the breeze, the birds flying overhead, the dogs, and even went down to the Snake River and hopped in for a quick dip! I didn't catch many photos of the dogs working, but did take a couple of videos of Zip that show pretty clearly how "the draw" works.
First off, here's an outrun against the draw. In this video, you will see Zip get to the top of the outrun and jump in the water tank. Normally, I wouldn't let him do that, but we had already been working for a while, and it was pretty hot out. He went back to work and that's where you'll see the sheep trying to bend around him in an attempt to get back to their buddies, who Colleen was working in the other arena. The distance is about 275 yards. (These are my first real videos. Please excuse the quality ... or lack thereof. I hope they don't give you motion sickness.)
And here's the outrun the other way. You will see how early the sheep take off, and how quick they are to head back in the direction of their buddies.
Anyway, just thought that was interesting. The rest of the day, Zip and I worked on shedding, and quickly came to the conclusion that this is an area that I really have not done much with, and is something that I will definitely be addressing with Patrick in the very near future.
Next up was Echo. This dog continues to blow my doors off. We worked on lengthening her outrun. Her come bye side is absolutely lovely. There is no doubt in my mind that she understands what her job is. Now that I've learned how broken my away side is, and am very conscious about my body pressure on that side, I think Echo is starting to figure out that working that side isn't all that bad anymore. She gave me a few very nice "away" outruns today -- shorter than the come bye side -- but lovely all the same. We will continue to work on these.
Later on, I put Rio (gotta change that name) on the wethers in the 125' x 125' pen. She's never worked in anything bigger than my round pen, and the very few times I've done that, it's been nothing short of a rodeo. So, I wasn't sure what to expect. She was awesome! Yes, she buzzed and split a bit, but was definitely getting out and around on both side very nicely. I even got her to stay behind the sheep for a bit and she gave me a few good fetches. Then later, I worked her in the larger arena and she did great. Settled in right away and slowed down quite a bit and was really thinking about what she was doing. Woo hoo!
Got a few pictures of the hawk that frequents Janie's place. I was in awe and was wishing I had a DSLR. For what it's worth, here's the few shots I got: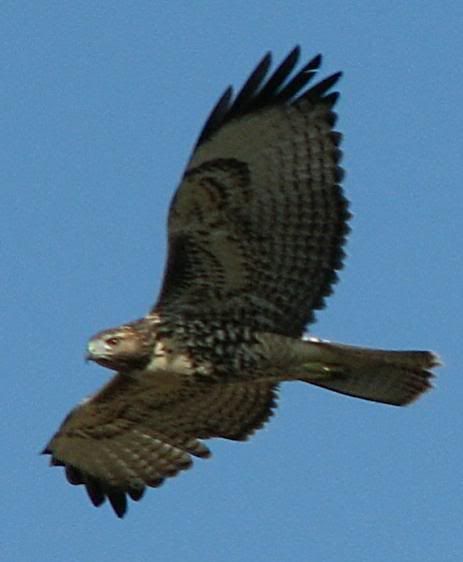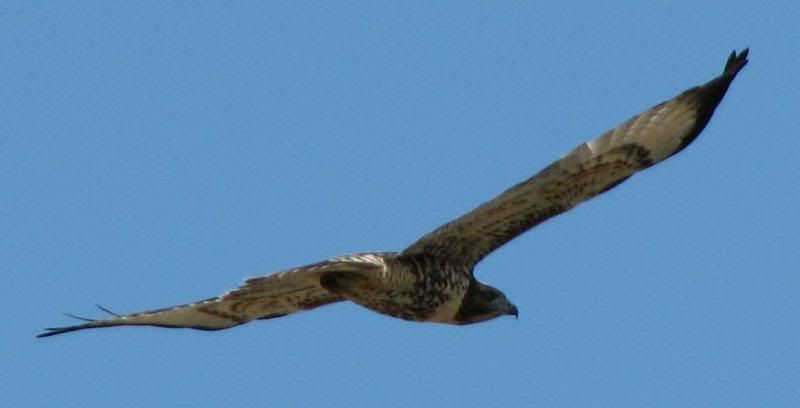 Happy tails!
JD