Well, I have to say, I am really enjoying the Tell Me Thursday thing. I'm learning a lot about the people whose blogs I've been reading for quite some time ... but these specific questions are really enlightening! Thanks, Laura, for keeping this going! When I posted those questions a couple of weeks ago, I didn't think about having to answer them. But ... here goes ...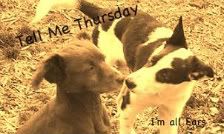 1. Who is your newest dog? Where is he/she from, and why did you choose this particular dog/breeding?
Kopper (photo in the header). She's one of the Zip x Echo puppies. I didn't choose her. In fact, I made the decision to sell my choice pup because of Reese coming down with parvo, and all of the implications that go with that. But Kopper was returned and I was offered an opportunity I couldn't refuse because I have awesome friends! So, Kopper will be coming here in the middle of September. And I think the only reason I keep ending up with red dogs is because ... I am not nuts about red dogs. Go figure.
2. What traits drew you to this dog or breeding?
Well ... Zip and Echo. I have been looking for years for a nice female to breed Zip to. Zip has quite a bit of eye, but is as biddable as all get-out, is very kind to his sheep, and has the patience of a saint. Echo has a different type of eye, bends off me very nicely, is very responsive, tolerates my stupidity, and is much more of a no-nonsense type of dog and can move anything I put in front of her.
3. What's on your feet right now?
Nada. I love bare feet on hardwood floors!
4. What are you reading right now?
The story of
TERRY CAFFEY
, a then 38 year-old man who was shot 5 times and who lost his wife and two young sons in a massacre orchestrated by his then 16 year-old daughter. The murders occurred March 1, 2008. The whole story is so very sad.
(Sorry to be a downer...)
5. What upcoming trials are you looking forward to? If you don't trial dogs I'll take whatever activity that you're looking forward to.
I am not trialing right now. I am looking forward to getting Reese back out to my trainer's who has much larger fields than my little blips of weeds. But for now, I'm also looking forward to a string of upcoming summer concerts Mark and I have been doing for several years now (different concerts ... usually same venues).
Jodi