(Sorry! They're thumbnails ... you'll have to click on them)
Pelite ...
Jetta ...
Or Beryl!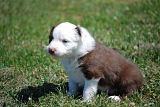 To make it even harder ... you can go to
Brittney's blog
and look at the three most recent videos ...
I think I'm leaning towards Beryl ... although Jetta is pretty darned cute. I think Pelite is a little too mellow ... or at least in these videos. LMAO! Aaaarrrrggghhh!
Opinions? (Oh yeah ... that'll help, I'm sure!)
Jodi